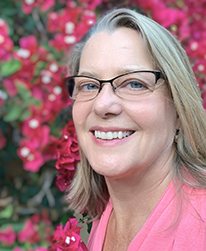 Since 1987 I have been helping people achieve their health goals through acupuncture, nutrition, herbal medicine, and lifestyle counseling. I also facilitate my patients in healing limiting beliefs and releasing old traumas and wounding. In 2009, I added Emotional Freedom Techniques [EFT] to my toolbox. It has transformed my practice and the lives of many of my patients. To be able to facilitate deep change in life long patterns is such an honor and a joy to be a part of.
Modalities:
Acupuncture, Herbal Medicine, Cupping, Gua Sha, Emotional Freedom Techniques
Biography:
Dr. Nancy Lowe began her career in holistic health over 30 years ago with an interest in natural foods and nutrition. She became a certified massage therapist and soon afterward she was enrolled at Five Branches University of Traditional Chinese Medicine. She received her acupuncture license in 1987. Today she is a professor at Five Branches and in 2008 after 2 years of rigorous study with many eminent Chinese and American practitioners of Traditional Chinese Medicine[TCM], which included study at Zhejiang University of Chinese Medicine in Hangzhou China; she received her Doctorate of Acupuncture and Oriental Medicine [DAOM].
Nancy continues to study energy and herbal medicine as it applies to the body, mind and spirit. She brings a comprehensive skill set to the treatment room and has the tools to address each patients unique set of health issues from those of the physical body to those of the spirit.
Resume:
Doctor of Acupuncture and Oriental Medicine
Licensed Acupuncturist
Professor at Five Branches University of Traditional Chinese Medicine
Emotional Freedom Technique Practitioner